18/04/2018: UK Music held our third MAP Outstanding MAP Graduate Awards in Salford on Monday evening.
UK Music's Natalie Williams and Oliver Morris present the Outstanding MAP Graduate Award
The awards were part of the Creative and Culture Skills (CC Skills) Awards and National Conference, and were hosted by by CC Skills Chairman and COO of Live Nation Paul Latham, and BBC radio & TV presenter Andrea Day.
UK Music CEO Michael Dugher, Director of Skills Oliver Morris and Head of Research Natalie Williams joined MAP institutions Backstage Academy, BIMM, Leeds Beckett University, University of Hertfordshire, LIPA and Southampton Solent University at the event at the Lowry Hotel.
During the Awards a special presentation was made to thank outgoing CEO of CC Skills Pauline Tambling CBE.
The nominees for the MAP awards represented a strong selection of some of the best graduates from artists to technical practitioners to management.
The winner was live events production graduate James Hayward who works as backline technician for The Specials, Paul Weller and Ocean Colour Scene from Backstage Academy.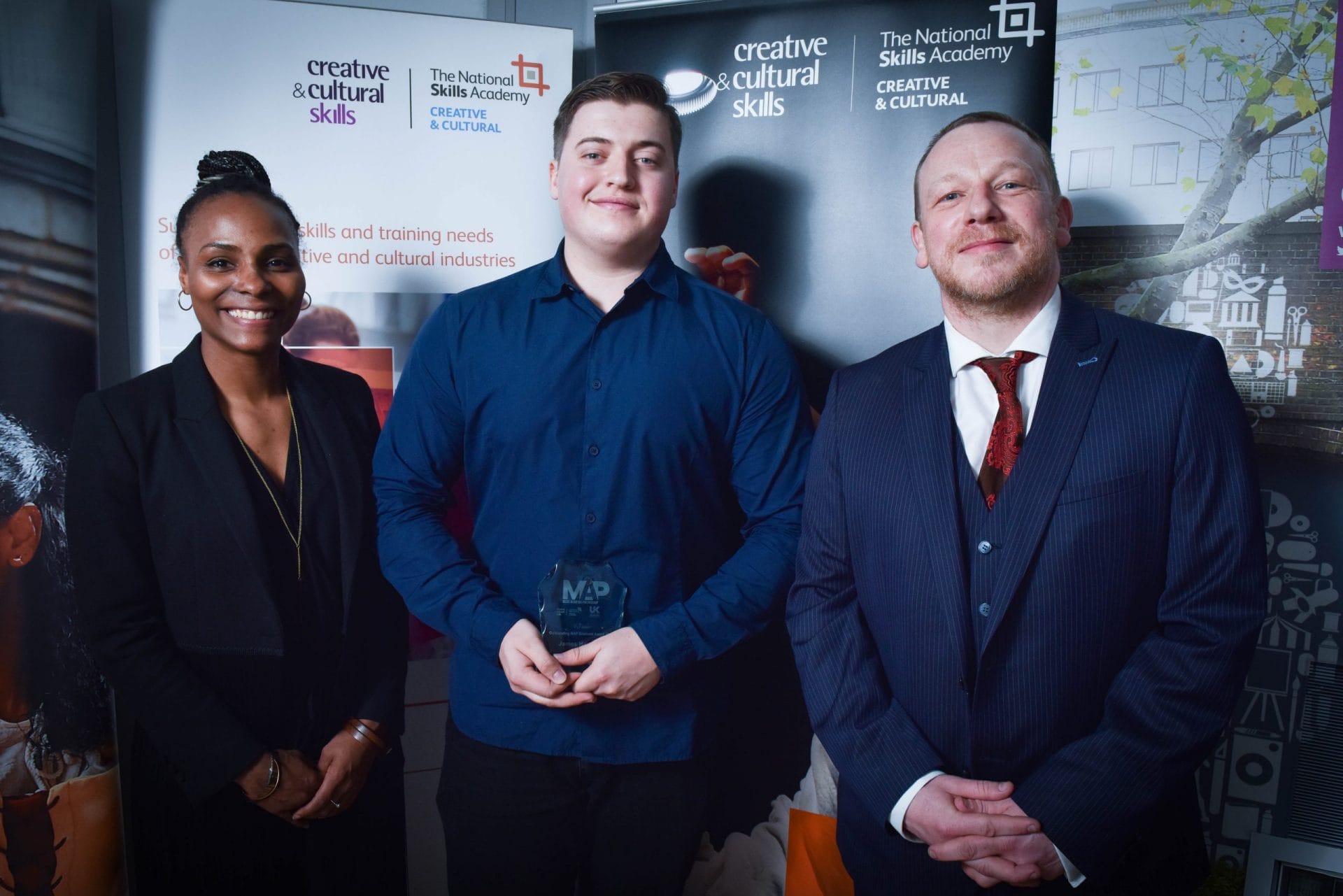 UK Music's Natalie Williams and Oliver Morris with winner James Hayward. Creative & Cultural Skills. Image © James Fletcher
The runner-up was Nordoff-Robbins' National Music Services Coordinator Yasmin Corrigan of Southampton Solent University.
UK Music's Natalie Williams and Oliver Morris with runner-up Yasmin Corrigan. Creative & Cultural Skills. Image © James Fletcher
The MAP awards were presented by Oliver and Natalie.
The BPI won the UK Music-sponsored Music Skills Award. BPI Director of Public Affairs Ian Moss accepted the award on behalf of the BPI with Member Services Manager Casandra Govor and Digital Communications & Content Manager Darren Kruse.
The award seeks to celebrate individuals and organisations that champion excellence in the creative industries. They shine a light on those who have shown an outstanding commitment to developing skills and learning in the creative industries, ensuring that the next generation has the skills needed for the creative sector to continue to thrive.
The other nominees were Urban Development and Sam Nicholls academic at MAP member Leeds Beckett University and coordinator of Music:Leeds.
Later in the evening, Michael Dugher presented the Intern of the Year award.
UK Music also led a breakout session at the National Conference at the conference entitled 'Future skills needs and challenges in the music industry'.
Michael Dugher at the CC Skills Conference breakout session
Michael chaired the session and was joined by Oliver and Natalie, with artist manager, founder of The Great Escape & Brighton Music Office and Industry Liaison & Music Cities Ambassador at BIMM Phil Nelson, and CEO of Urban Development Pamela McCormick.
The conference was addressed by a number of high-profile speakers including Julia Fawcett OBE, The Lowry; Shadow Secretary of State for Business, Energy and Industrial Strategy, Rebecca Long-Bailey MP; Executive Director of Public Policy at Arts Council England, Mags Patten; Mayor of Greater Manchester Andy Burnham and City Mayor Salford Paul Dennett.
Back to news