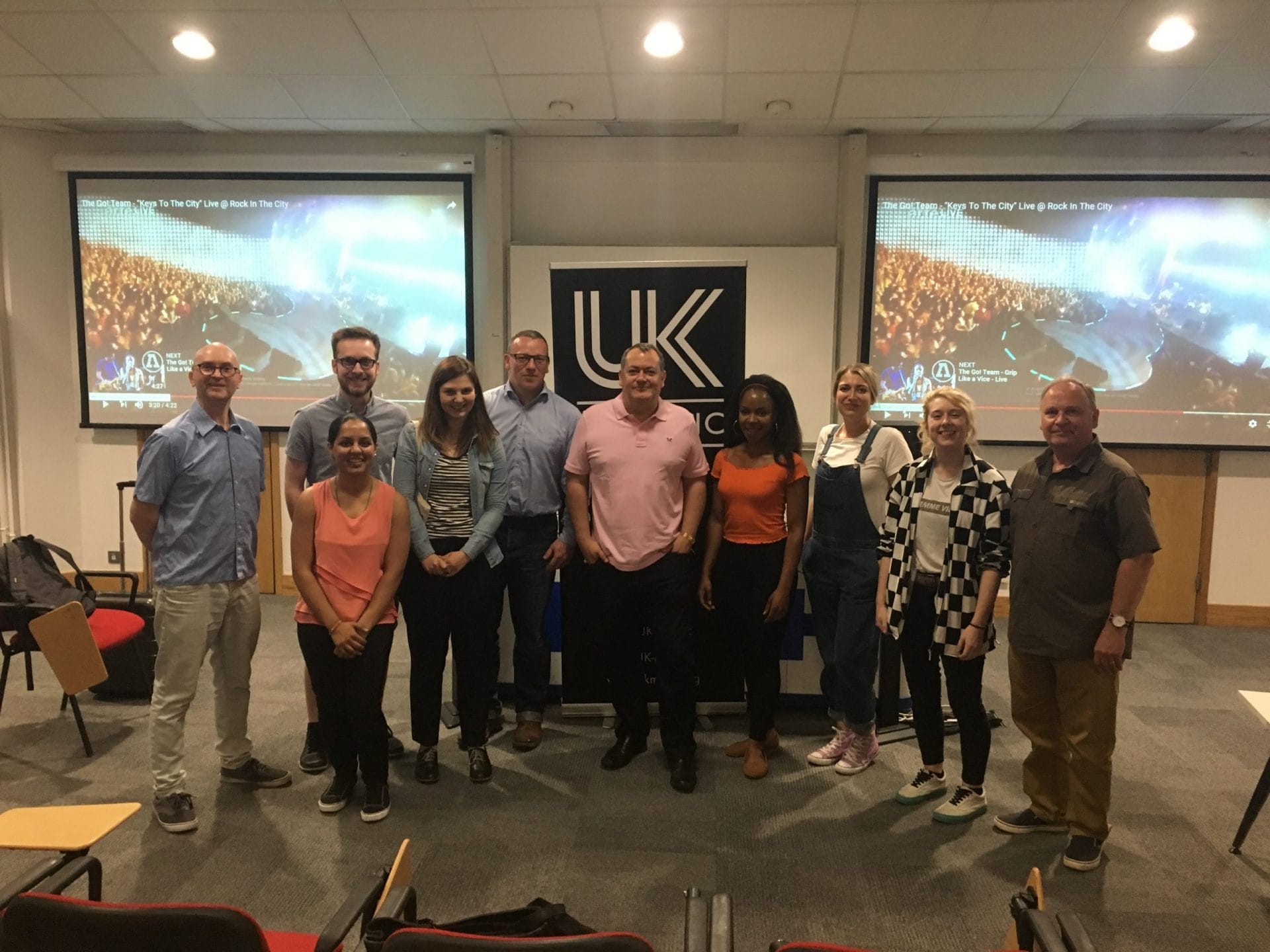 UK Music CEO Michael Dugher with speakers
L-R UoH, Reshmi Patel – UK Music, Jonathan Bond – Music Gateway, Casandra Govor – BPI, Oliver Morris – UK Music, Michael Dugher – UK Music, Ninja, Silv Garguoli – BIY People and Talent, Lauren Deakin-Davies and Dr Phil Harding – JAMES Music
08/05/2018: The event on Tuesday started with a careers panel, chaired by UK Music's Head of Education and Skills Oliver Morris.
It featured producer Dr Phil Harding, from JAMES Music, Jamie Pullman from the Musicians' Union, producer Lauren Deakin-Davies, Jonathan Bond from Music Gateway, Casandra Govor from the BPI, Silv Garguoli from BIY People and Talent and our apprentice Reshmi Patel.
They discussed the important of networking, internship opportunities, trying different things and expanding your horizons.
The panel was followed by singer Ninja, from The Go! Team, in conversation with UK Music CEO Michael Dugher.
Amid a conversation about Brexit and visas, Ninja said that at present "the only way you'd know you'd crossed an EU border is because your phone tells you the network has changed".
Her top tip was "network, meet people, go and support artists. There are people around you trying to get their name so help them out. If they know you, you'll be the first they come to with opportunities".
She also praised the work of UK Music in lobbying government, calling us 'big tings' and celebrating the positive impact of Agent of Change.
The first slot after lunch was filled by Vanessa Higgins, from Regent Street Records, in conversation with BPI's Casandra.
Her label is is a 'one stop shop' for Sync, and she started it after gatecrashing a BPI Sync party in LA, writing a piano piece for someone she met there and getting her first £5,000 deal two days later.
She discussed providing every stem of a song so music supervisors can repurpose it, rights deals, and the ways songs become associated with adverts.
Silv and Sophie from BIY People and Talent also hosted a Careers Advice panel, where they told students to be mindful of their social media footprint and said there's no shame in making mistakes – as long as you learn from them.
Silv said: "Go into interviews and be yourself, don't try to be anyone else because you'll be found out really quickly. If you're pretending to be someone else and get the job, it might not be right for you anyway. If you work in music, there is one caveat, and that's you need to be passionate. If you love what you're doing, it'll come through."
In the second slot, Dr Harding hosted a technical production session, where he gave a comprehensive breakdown of Belinda Carlisle's cover of Creedsnce Clearwater Revival's Have You Ever Seen The Rain?, which he produced, on Pro Tools.
He gave a detailed run though of how the track was recorded, the software he used and how his team prepared for the session.
He also discussed making the most diplomatic decisions in the studio, the tugs between managers and producers, and the politics of using session musicians.
Ninja also hosted a songwriting session, talking to students about the way she works. As a singer who doesn't play instruments, she talked about the way she conveys ideas – by beatboxing and singing instrumental parts when she needs to.
She also said‪: "There's no one way to write a song. We've had to battle to get some songs on the radio because they don't follow a traditional structure, but don't let that stop you from doing something unique. Break some boundaries with your creativity."‬
The energetic singer also encouraged students to send her their own playlists for inspiration.
On May 4, UK Music visited ACM in Guildford, bringing the MAP Roadshow to the Electric Theatre.
(L-R) Jamie Pullman MU, Ace ACM, Oliver Morris UK Music, Anna Neale BASCA, Nina Radojewski AIM, Tom Fletcher MPA, Chris Tams BPI, artists Shaodow and Eckoes
Oliver Morris chaired an industry career panel that included BASCA's Anna Neale, AIM's Nina Radojewski, PRS for Music's Andy Ellis, MPA's Tom Fletcher, MU's Jamie Pullman, BPI's Chris Tams and artist Eckoes.
This was followed by a masterclass by award-winning DIY artist ShaoDow on making it as an independent artist.
After lunch, the BPI presented a Sync panel, with Chris Tams joined by Reversal Music / MPA's Tom Fletcher.
Back to news