21.08.15: UK Music has brought together an all-star music industry line up for a special 'Introduction to the Music Industry' event on Friday 25th September at New River Studios in Tottenham.
The event in partnership with British Black Music is designed to engage young adults aged 18-25 into considering careers within the music industry.
New River Studios was opened in October 2014 with support from Beggars Music as part of UK Music's national Rehearsal Room scheme which now has a network of fourteen music rehearsal spaces open within the most deprived areas of the UK. The first of its kind in London, the studio was set up to encourage local youth to become more involved in music through affordable rehearsal studio access. The scheme is designed to help develop talent as well as social skills by means of group participation, building good social relationships and confidence within young musicians.
The focus of this event is to provide a series of workshops that will deliver the necessary information regarding how to make the first next steps in the music industry. Local MP for Tottenham David Lammy will be present to introduce the event, which will see talks hosted by a variety of high-profile industry figures including Sian Anderson (Radio 1Xtra), DJ Semtex (Radio 1Xtra/Sony Music), Alec Boateng/Twin B (Radio 1Xtra/Atlantic Records), Keith Harris (PPL) and pianist Nikki Yeoh (The Roots/Courtney Pine).
Creative Access, who arrange internships and apprenticeship opportunities for young people from under-represented black, Asian and other minority ethnic backgrounds will present a workshop on CV skills and how to prepare for an interview. UK Music's Music Academic Partnership will also speak about further education in music.
Participants can apply for a place by emailing their full name, age, mobile number and music experience to: info@ukmusic.org  (Successful participants will be informed by the 21th September.)
UK Music Presents: 'Introduction to the Music Industry' Event at New River Studios Tottenham
Location: New River Studios, 199 Eade Road, London N4 1DN
Date: Friday 25th September 2015 Time: 11am – 4.30pm
Confirmed attendees and participants: • David Lammy MP, Tottenham • Industry talk with DJ Semtex (BBC Radio 1Xtra/ Sony Music A&R / Nation of Billions) • Radio talk with Sian Anderson (BBC Radio 1Xtra) • A&R/Label talk with Alec Boateng/ Twin B (BBC Radio 1Xtra/ A&R Atlantic Records) • Song writing workshop with Little Simz hosted by PRS • Careers in Publishing with Music Publishing Association • PPL – Music licensing with Keith Harris • How to be a Session Musicians with Nikki Yeoh (The Roots / Courtney Pine) • Creative Access – CV Skills and Interview Preparation • Music Academic Partnership – Further Education in Music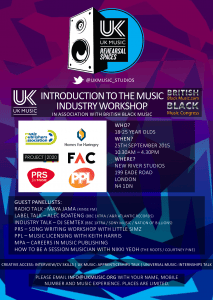 Back to news