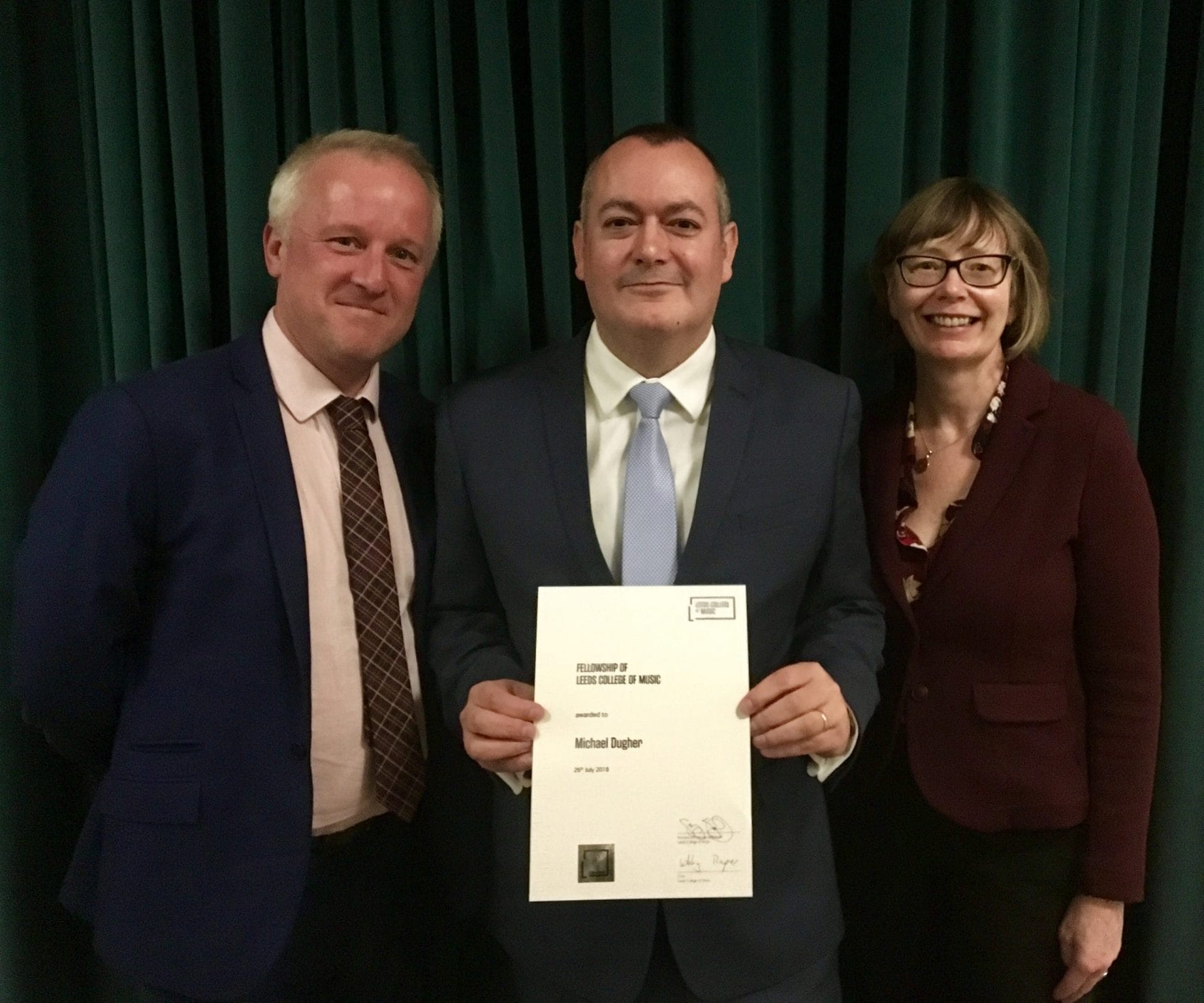 Libby Rapper, chair of their board, and Gerry Godley, Principal.
03/12/18: UK Music CEO Michael Dugher has been awarded a Fellowship by Leeds College of Music (LCoM).
Michael Dugher's fellowship was marked with an official dinner at the college on Friday (November 30) where he gave a keynote speech on the importance of music in education.
The fellowship is given to music industry professionals whose professional practice reflects the ethos and ambition of the conservatoire.
Michael was given a guided tour of the conservatoire, which is part of UK Music's MAP network, to see some of the world-class facilities available to students doing a range of subjects.
Michael became CEO of UK Music in May 2017, after stepping down as Member of Parliament for Barnsley East after seven years.
During his time at Westminster he held several senior positions in the Shadow Cabinet including Shadow Secretary of State of Culture, Media and Sport, as well as being actively involved in the All-Party Parliamentary Group on Music.
Before being becoming an MP, Michael worked in a variety of Whitehall roles including at No 10 Downing Street as the Prime Minister's Chief Political Spokesman. He had previously been a Special Adviser in several government departments and was Head of Policy for the AEEU engineering union (now Unite).
A self-taught musician, Michael still gigs occasionally, including recent performances at Liverpool's Cavern Club, the Ageas Bowl and on TV alongside members of Dodgy and Maximo Park on Matt Forde's 'Unspun' show.
Michael helped establish a major metropolitan festival as patron of the award-nominated 'Live In Barnsley' (now 'Barnsley Live'). He was also patron of Worsborough Brass, one of Yorkshire's top brass bands, and as the Chair of the All-Party Parliamentary Group on Brass Bands he successfully campaigned for a significant increase in funding for brass bands in England.
As CEO of UK Music, Michael is a high profile public speaker and broadcaster, and he writes regularly in the music and wider press. He is a representative from the music industry on the Government's Creative Industries Council and is a member of the Mayor of London's Music Board.
Michael was born in Doncaster in South Yorkshire in 1975 and was educated at the McAuley Catholic School. He graduated with Honours in 1997 with a Bachelor of Arts degree in Politics.
Michael Dugher said: "I've always believed that music has the power to transform lives. I first started playing various instruments from the age of 12 when I was growing up in Yorkshire.
"Although music never gave me a 'career' as a musician, it did give me self-confidence and self-belief at a critical time in my development that I'm sure meant that I did better academically and went on to achieve the things I eventually did.
"There's a lesson for policy-makers here about not neglecting the importance of music in education and ensuring every child from every background has access to music.
"I'm so proud to be associated in any way with the superb Leeds College of Music. I've seen at first hand the amazing work it does as part of UK Music's Music Academic Partnership.
"And although I spent 20 years working in public service and politics, I never regarded myself as a 'political obsessive.'
"But I've always been a 'music obsessive' and I'm thrilled to be given this Fellowship.
"It was a fantastic evening and an inspiring visit. Leeds is a truly globally-leading conservatoire with state-of-the-art facilities and world-class teaching. My thanks in particular to all the students who performed so brilliantly".
Principal and Managing Director of Leeds College of Music, Gerry Godley, said:
"We are delighted to honour these two inspirational Fellows, both of whom play a vital role in championing not only artistic development and diversity, but also the vital importance of music within our society."
Musician Pauline Black, of The Selecter, has also been honoured for her contribution to the UK's musical landscape and her impact on our social fabric and popular culture.
You can read more about Michael's fellowship here:
https://www.lcm.ac.uk/about-us/news/lcom-honours-two-key-music-industry-figures-at-graduation/
Back to news