01/11/18: UK Music have today revealed our 2018 Measuring Music report, revealing that UK music industry exports rose by 7% to a record £2.6 billion last year.
Big rises in recorded music and publishing revenues help fuel export growth
Music industry jobs rose by 3% to a new high of 145,815 people
The UK music industry grew by 2% in 2017
The UK music industry grew by 2% in 2017 to contribute a record £4.5 billion to the economy – up by £100 million on 2016, a new report by UK Music reveals today.
UK Music published the findings of its Measuring Music 2018 report today (Thursday November 1) to highlight the scale of the industry's contribution to the economy.
You can read the report here.
The flagship annual economic study by UK Music and its members showed that the music industry continued to grow last year across almost every sector.
Among the big success stories were the record music sector which saw a rise of 9% to £700 million and music publishing which grew by 7% to £505 million in 2017.
Successful British acts including Ed Sheeran, Dua Lipa, Rag'N'Bone Man, Stormzy, Harry Styles and Depeche Mode helped exports of UK music soar in 2017 by 7% to £2.6 billion.
Millions of fans who poured into concerts ranging from giant festivals to grassroots music venues generated a contribution of live music to the UK's economy of around £1 billion (£991 million).
UK Music measures the health of the music business each year by collating data from our partners about the industry's contribution in goods and services, known as Gross Value Added (GVA), to the UK's national income or Gross Domestic Product (GDP). Exports are part of this contribution.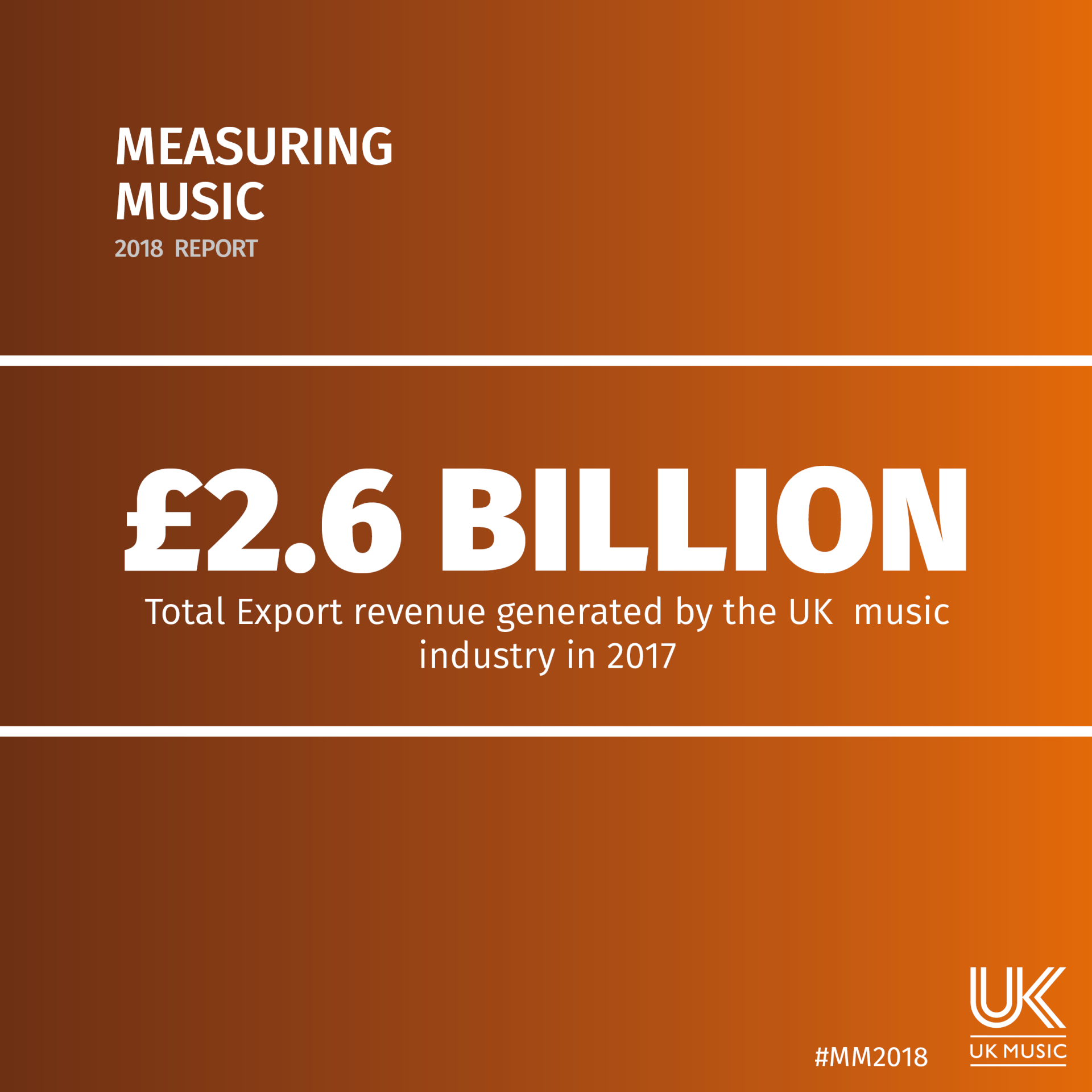 KEY POINTS FROM MEASURING MUSIC:
(All figures are the music industry's GVA to the economy in 2017 + the percentage rise on 2016 figures)
Whole sector's contribution to economy – £4.5bn (+2%)

Musicians, composers, songwriters and lyricists – £2bn (+1%)
Recorded music – £700m (+9%)
Music publishing – £505m (+7%)

Exports (whole sector) – £2.6bn (+7%)

Recorded music – £468m (+11%)
Music publishing (exports) – £719m (+11%)
Music representatives (exports) £348m (+9%)

Employment (whole sector) – 145,815(+3%)
UK Music chief executive Michael Dugher welcomed the figures, but delivered a warning about the need to nurture the music industry's talent pipeline.
Mr Dugher said: "British music brings enjoyment to millions and makes a massive contribution to the UK plc. I'm really proud of the fact that these figures show once again that when it comes to music, we in the UK are very, very good at what we do.
"We are a global leader in music and we continue to grow faster than other parts of the British economy and to punch well above our weight.
"Music exports are a particular British success story and organisations like PRS for Music and PPL, that help ensure creators and investors see a return for their work, have also performed particularly strongly in 2017.
"These figures show what can be achieved when we choose to back the British music industry.
"Every child from every background should have the opportunity to access music, to experience its transformative power and to try out a career in the industry if they want to – regardless of whether or not they have access to the Bank of Mum and Dad.
"That's why we need further government support to help us ensure we produce the next generation of world-leading British talent by backing music in education, protecting grassroots music venues and making sure that creators are properly rewarded for their work. If we do that, we can be even more successful in the future."
UK Music chairman Andy Heath said: "We are fortunate that levels of creativity in the music industry are really promising at the moment.
"It is a fantastic time for music-makers and for consumers – both in the variety of music on offer and the different ways that people can choose to listen to music.
"However, there are challenges. It is difficult in the digital age to break new talent because of the sheer quantity of music out there in a crowded marketplace.
"That difficulty is growing and means brilliant creators have to fight harder than ever to get their music heard.
"In the years ahead, it will be a test to help audiences and consumers differentiate and find the musical gems that make our industry so unique.
Minister for Digital and the Creative Industries Margot James said: "The report demonstrates continued sustained growth with the music industry now contributing £4.5 billion to the economy. Exports have risen to £2.6 billion and the sector employs 145,815 people.
"2017 was a very successful year globally for the UK music industry. Ed Sheeran's third album ÷ (Divide) was the biggest selling album of the year. The O2 in London was officially the most popular live music arena in the world. Five of the top ten most successful worldwide tours were from UK acts. 2018 is proving to be no different
"We need to build on these achievements and as the Minister responsible for the creative industries I am firmly committed to doing just that."
Read more here:
Back to news